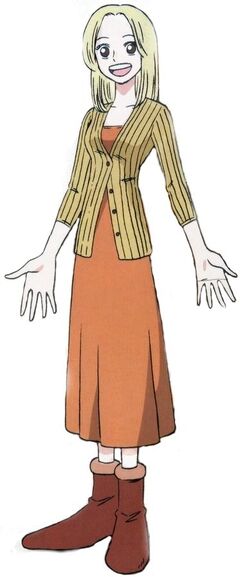 Kaya (カヤ, Kaya) or Miss Kaya (カヤお嬢様, Kaya ojō-sama) is a young girl who lives in the largest mansion of Syrup Village.
Appearance
Edit
Voice Actor: Carrie Savage (English), Mariko Kouda (Japanese)
Kaya is a fairly tall, thin, and pale girl with blonde hair.
Despite her fortune, she is rarely seen in anything but simple neat clothing, be it a plain long dress or "common" clothing such as a skirt and jacket.
Personality
Edit
When Kaya was first introduced she was a rich yet sickly young girl. It later turns out she was just worrying herself into sickness.
She now leads a very happy and healthy life. She is carefree and very trusting towards others.
Relationships
Edit
Friends/Allies
Edit
parents (deceased)
Usop (Husband)
Mizi (Daughter)
Yasop (Father-in-Law)
Banchina (Mother-in-Law deceased)
Abilities and Powers
Edit
Ad blocker interference detected!
Wikia is a free-to-use site that makes money from advertising. We have a modified experience for viewers using ad blockers

Wikia is not accessible if you've made further modifications. Remove the custom ad blocker rule(s) and the page will load as expected.